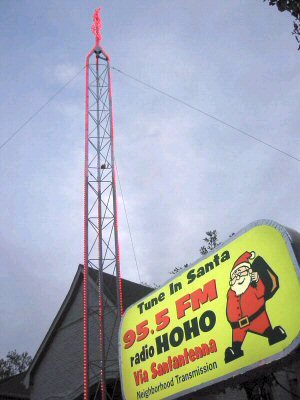 Vocally talented, North Pole Radio DJ
Dallas, Texas, U.S.A.


Featured Musical Sample:
Listen to Radio HOHO Advertiser - Earnest's Pointed Earmuffs - mp3 - opens new window

Musical Bio:
Paul talents lie in the mixing of music, especially those of the Christmas genre. A few years ago, Paul and his wife had moved into their new home and within a few days were sent a flyer from the homeowners association. "December Yard of the Month Content – Vote for your Favorite Christmas Yard Decorations – First Prize $25 Gift Certificate to Chili's". Inspired by the allure of a free order of fried cheese and thanks to his background in FM systems (for audiology and other related fields) Paul created the Radio HOHO Christmas show.

Drive by Paul's house around Christmas time and you will see a 20 ft tall radio tower lit up with Christmas lights and signs directing you to tune your radio to 95.5 FM to "Tune In Santa". Follow those directions and you would hear the "Official Radio Station of Santa's Workshop – North Pole Radio HOHO". Santa Claus is the DJ and in addition the the regular staples of Christmas music, you would hear north pole weather reports from Wendel the Weather Elf, Santa would read out the North Pole News, and if anyone needs technical support, they call in Program Engineer Eugene.

Want to see and hear more? Visit the Radio HOHO web site (radiohoho.com)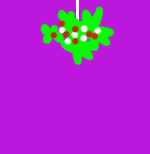 Nothing is free and so the program also includes advertisers such as Abominable Snow Man Snow Cones (made with real North Pole snow), Earnest's Pointed Earmuffs (cause elves' ears aren't round!) and Sammy's Magnificent Christmas Mistletoe (guaranteed to get you smooched, or Sammy will come over and smooch you himself). Paul does all the voices and mixes them with the songs and sound effects on his computer using Cool Edit Pro. There is a web site of course at http://www.radiohoho.com with North Pole weather updated every 15 minutes and samples of the show you can download and listen to. Every year there is something different happening at the North Pole, one year there was a Jingle Bell's Marathon, one year it was a Barry Manilow Christmas, so you just never know what might be playing!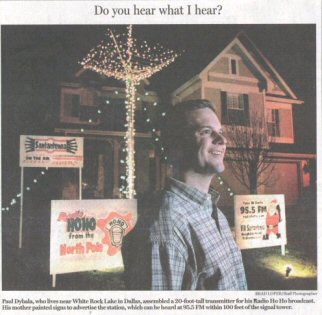 Paul and Radio HOHO have received some local media coverage making the front page of the Dallas Morning News Metro section and the 9 o'clock news on the local CBS affiliate. Most importantly, Paul won the neighborhood "Christmas Yard of the Month" award two years in a row and had as much free Chili's fried cheese as he could get his hands on. Sadly, he was banned from later "Yard of the Month" competitions. The reason? The Chairperson of the Landscape Committee explained to Paul that is was, "To give other people a chance at winning, as almost everybody just votes for you each year."
Audiology Bio:
Dr. Paul D. Dybala is the President and Editor-in-Chief of Audiology Online, the world leader in online hearing health education and information. When not doing that he is looking for the latest Ear Level Voice Activated Systems so email him at ELVAS-email-AudiologyOnline.com (put the @ sign where -email- is) if you have an ELVAS sighting!
inFamous ID: 13 // Date Created: 2006-02-11 // Last Updated: 2006-02-20