The Adventures of Fabry Keypad 45 (a.k.a. fk45)
---
A Quick Note
Hey everybody! As you already know Blogger sucks! My complete story below was originally hosted at Blogger for about 7 months. All of a sudden - months of work just dissappeared! Amazing. Anyway - the earGuys were nice enough to let me post my travels here at earTunes.com. They are FREAKIN AWESOME! Also - I went ahead and put this in chronological order top to bottom versus typical blog style. Anyway, hope you enjoy my little journey below - fk45
---
October 14, 2006
What's going on here?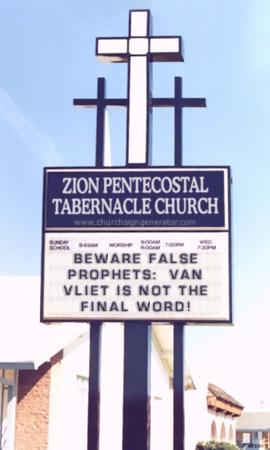 Well, I was helping Dr. David Fabry with one of his presentations during the 2006 Academy of Dispensing Audiologists meeting in Phoenix, Arizona.

It was a session that he was co-presenting with Dennis Van Vliet (that guy is a little strange let me tell you). Anyway, instead of ending up with the rest of the keypads at the end of the presentation - I end up stuffed into a pocket. I am a computerized device, so I am starting to jot down my thoughts into my memory banks.

Right now I need to get my bearings a bit more, I will fill you in more when I get a chance.

- fk45 (a.k.a. Fabry Keypad #45)

---
October 15, 2006
Who am I?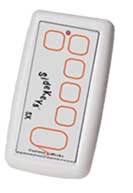 Well, if this is your first time reading, I guess at a minimum I should introduce myself. Sorry I didn't do this earlier, but I'm still getting my bearings. I am wireless keypad number 45. I was made by Learning Ware as a part of an interactive system for live presentations. I would be passed out with my other keypad friends and when the presenter would ask a question, we would enable the participants to respond in real time. It was really fun, as I have found that many audiologists make a living "mashing buttons" on audiometers. I once met a GSI 16 - we traded stories that revolved around the various techniques that audiologist use when pressing buttons, but that is another story for another day.

If I can digress - I once had someone ask me - Why don't you ever wear a scarf? It doesn't need to be cold outside for your neck to feel naked. - This was really a silly question. I don't wear a scarf as I do not have a neck.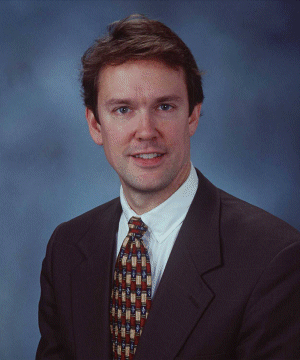 Anyway, Before I was kidnapped I was used by Dr. David Fabry of Phonak Hearing Systems. I found a picture of him by searching the internet. I put his picture over here to the right. I know, it looks like this picture was taken when parachute pants were still in style - but that is him.
You know - when I look at this picture of Dr. Fabry - it almost seems like he is trying to whistle or possbly is about to say something like "the thells thea sells by the thea thore". I can almost see the spittle about to fly out between his upper teeth and his bottom lip.
That is what this picture says to me. What does it say to you?
I also did a search and found Dr. Fabry's bio (and the picture to your right) on Audiology Online here it is: David Fabry is Vice President of Professional Relations and Education for Phonak Hearing Systems in Warrenville, IL. He is the former Director of Audiology at Mayo Clinic in Rochester, Minnesota, and a Past President of the American Academy of Audiology.
Anyway, I was part of team of keypads that was used Dr. Fabry when he would give presentations at various state, regional, national and international meetings. We traveled all over the place - but as I mentioned - I have been kidnapped - by some audiologists!
- fk45
---
October 16, 2006
Good News!
Well - I have gotten to know the audiologists who have kidnapped me - and you know what - they are really a lot of fun! Looks like we are going to have a good time traveling around the US. Seems as thought my "kidnappers" were concerned that Fabry was getting me into a rut. I am off on an adventure! Here is the best part, I am able to "blog" my experiences on the internet so that people can follow along! Honestly, I never liked the work "blog" - sounds like someplace where dinosaurs used to poop. Anyway, this is really more of klog or a keypad's log of an adventure. Who really cares what you call it! I may just call it Meredith. Stay tuned for more!

- fk45
---
October 18, 2006
Rocky Mountain Oysters
After leaving Phoenix, my "kidnappers" headed north with me. Traveling through Colorado we all had a real hankering for some good Rocky Mountain Oysters. Evidently, Severance, CO "Where the Geese Fly and the Bulls Cry" is the best town to get Rocky Mountain Oysters - and when you are in Severance, evidently, there's no place that makes them better than Bruces.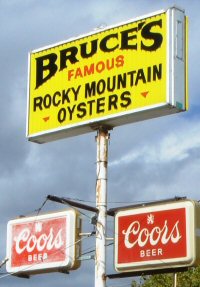 I was also told that we needed to stop by and pay our respects, as the owner Bruce Ruth passed away recently. .

While knocking down a few Coors, I got to know the bartender, Rosa. The two of us had our photo taken together out front (she has soft hands!). Snowed in the high country last night, so we are heading for Aspen to get some skiing in!

- fk45
---
October 22, 2006
The Minne-Apple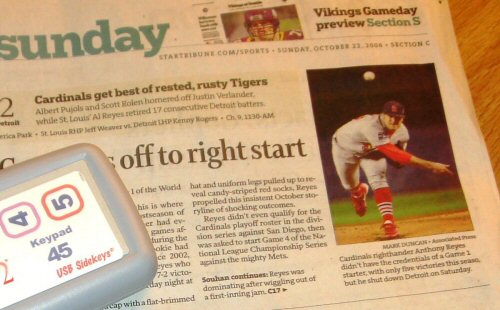 Skiing in Colorado was great (actually, for me, it's more like "sliding"), and I'm now in Minnesota. Sat up in bed with a big thought today--it is Fechner day you know (I always had to remind my owner Dr. Fabry, as he would forget). The big thought was to lie around, order room service and read the sports section of the Sunday paper.

Hmm. Cardinals win first game of World Series. Bet Dr. Valente was almost as excited as when he nails an NAL real-ear target!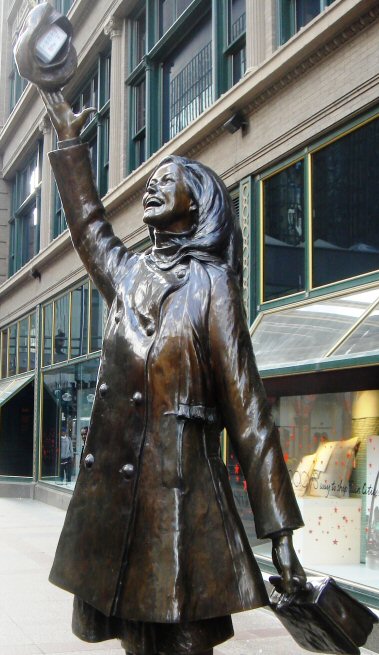 I did get outside for a while, and decided to have my photo taken with Minneapolis's most noted "figure" -- Mary Tyler Moore. I thought it would be cool to sit in her hat, so there I am! Look good, don't I?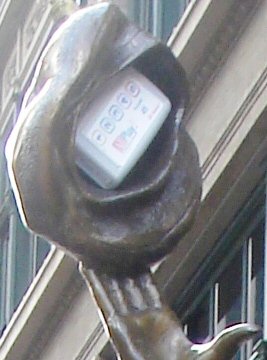 A funny story--I had to ask a man on the street to lift me up there. Some people walking by thought I was a bomb, and ran like hell (can I say "hell" on this klog?).
Cold here today, so I'm going to head south. Also, we have been rushing a bit to get from one place to the next. My kidnappers think that I should take a more leisurely approach to our travels.

- fk45
---
November 15, 2006
Nashville Day 1
As usual, my "kidnappers" tossed me in the drink holder of their car and left Minneapolis heading south. As I mentioned above - we took our time.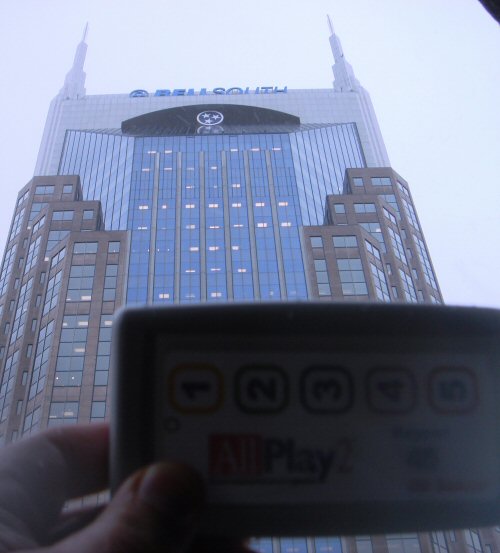 Most of the "kidnappers" have real jobs and so we got some work done along the way. They are what you call "consultants". Pretty amazing, as I think my "kidnappers" are pretty much crazier than a fish with ... well, you get my drift. Seriously, who am I to talk? If people will pay you to listen to your crazy opinions and ideas - it is a good gig to have.
Also I had a great Halloween costume picked out-I was going to go as a 1960s garage door opener-but, I didn't get to use it, as I was left out in the car during all the Halloween festivities. I guess none of my "kidnappers" wanted pictures of them in the various costumes they were wearing. Oh well.
I sat in the drink holder and napped on and off as we continued to travel, but when I heard my "kidnappers" talking about the "Bat Man Building,' they held me up to the window so I could see. We were in Nashville!

This was great, as I have a cousin, Sue Ellen, who lives here out at the Bill Wilkerson Center at Vanderbilt. After some begging, my captors agreed to take me out there. On the way, we stopped to see the Parthenon (Nashville is the "Athens of the South," you know, and I've been involved in some beta testing, so I feel like I'm a little Greek myself).

What I didn't know, was that Sue Ellen lives in a place called an "anechoic chamber." On the day we arrived, there were two big guys named Dittberner and Ricketts playing around in there-doing research they said. Sue Ellen and I had our pictures taken with them.

Here is a close up of us!

Afterwards, I spent some "alone time" with Sue Ellen. Before I knew it, she was getting a little friendlier than cousins should (I forgot I was in Tennessee) so I said a quick goodbye and headed back to our hotel.

- fk45
---
November 16,2006
Nashville Day 2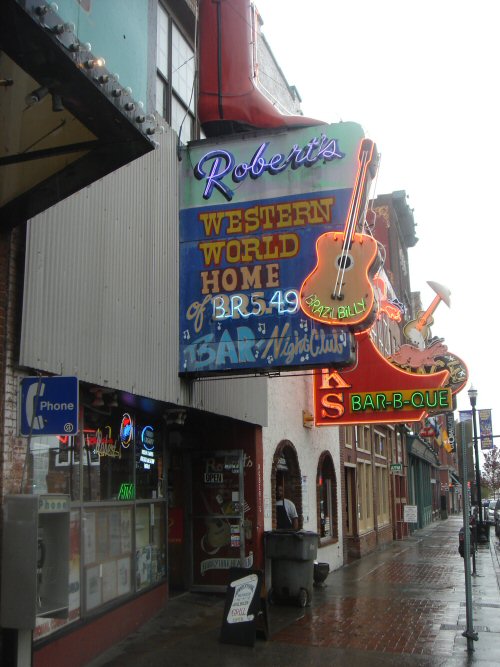 Still reeling from my uncomfortable experience with Sue Ellen, I was glad to hear that our second day in Nashville would be a tour of the divey honky-tonks. We started at Robert's, where we had a PBR and a pork chop sandwich. Located in the shadow of the old Ryman auditorium (original home of the Opry), it was once a boot store, but now is one of the best bars in downtown Nashville, especially if you like Texas Swing music.

I considered buying a pair of boots, and was going to try on a pair, but big problem - I forgot, I don't have feet (or even legs)! Besides, my kidnappers were pulling me out of Robert's to take me to their favorite Honky-Tonk, Tootsies.

Tootsies' is an interesting place. Kris Kristofferson used to bartend here. There is a picture of the long-time owner, Tootsie Bess, behind the bar. In case you're wondering, she's no relation to the famous Nashville crooner Fred Bess, although I bet he's had a few Bud Light's with her over the years.
While my kidnappers were dancing, I got to know Kate-Lynn at the bar. As you might guess, she's a song writer and a singer, waiting for her "big break."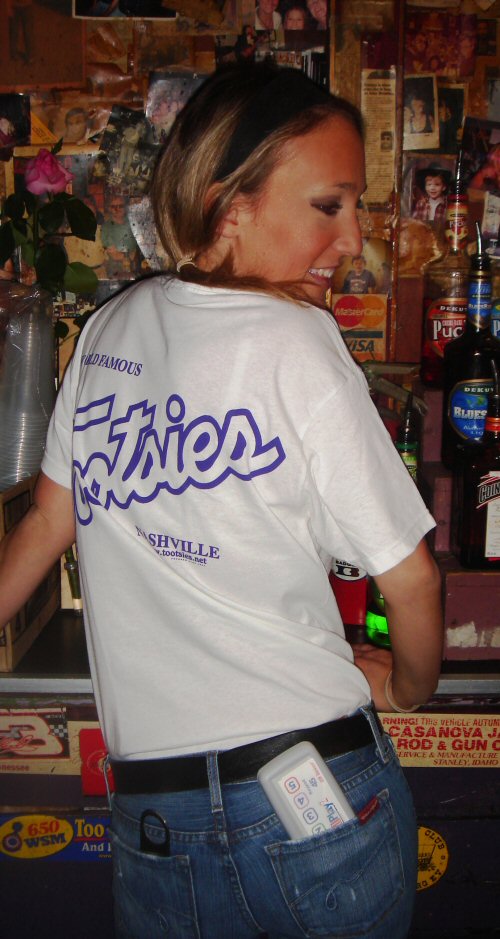 As the night went on, during the "Holler and Swaller" activity, I kept getting dropped (pushed) on the floor, so Kate-Lynn said I could ride around in the safety of her back pocket. What a night! I don't remember leaving Tootsies, but I know we were back on the road leaving Nashville early the next morning.

- fk45
---
December 22, 2006
Maine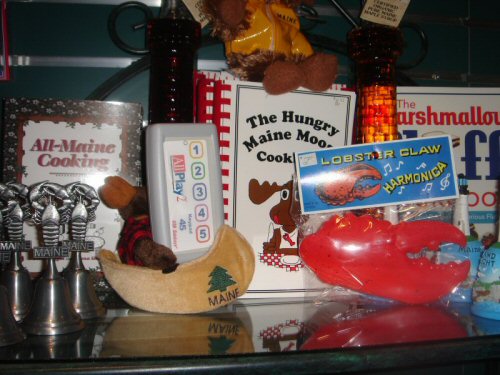 Well, we had been going for a while from place to place and at one point I heard my kidnappers say we were crossing the George Washington Bridge, but then we still kept driving a long while. Guess where we ended up? A place called Maine!

I had never been there, but a place known for moose and lobsters can't be all bad. I headed straight for the souvenir shop to see what I could find.

Hey-how about a lobster claw harmonica? How cool is that?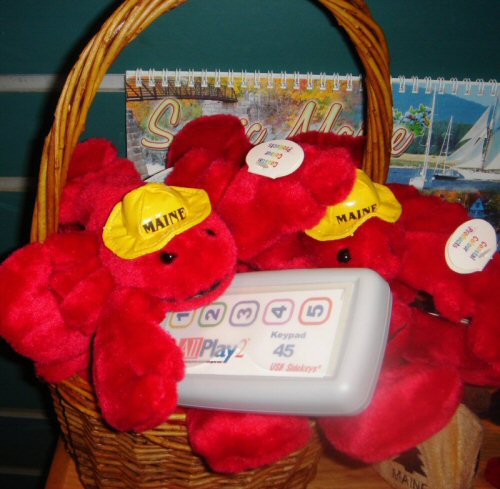 Even better, there was a group of fuzzy little lobsters in a basket. I crawled in and took a quick nap. I know, they aren't real, but why should I care? It was a good photo op!

My kidnappers took off for downtown Portland, to go to a place called the Fore Street restaurant, but I decided just to hang out at the local pub and try some of Maine's fine beers.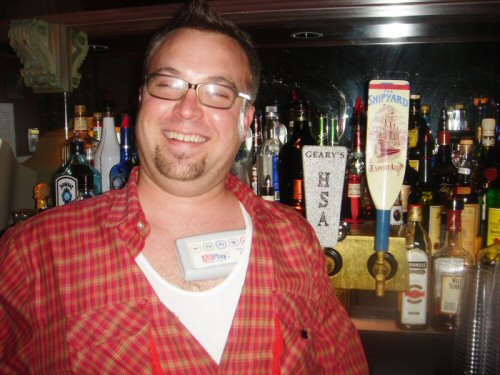 After many samples of Geary's and Shipyard ale, I got to know Jack the bartender. He wanted to have his photo taken with me, and I said okay. That was before I know where he was going to stick me!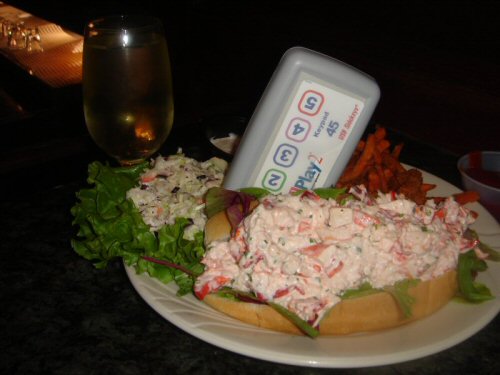 Although after the "Jack experience" I really wanted to take a shower, I also wanted to have some local food, so I ended the night with a huge "lobster roll" sandwich. Fantastic!

- fk45
---
January 29, 2007
Chi-Ca-Go
FYI - Our fun in Maine was cut short by a huge rainstorm. As a result, I never did get to see a lighthouse, a moose or even Angela Loavenbruck!

Well since my last entry in December the "Holiday Season" has come and gone. So I would like to wish you a - Happy Merry, Christmas, Chanukkah, Kwanzaa, St. Lucia, St. Nicholas, Ramadan, Juletide, Weihnachtszeit, Dagur nemenda, Winter Solstice, New Year's Eve, New Year's Day, etc. etc. etc. If I forgot your holiday, sorry, pleased don't be mad, I am trying to be inclusive, but my little memory card can only hold so much information.

Unlike our usual car trips, we all took a plane to the next major destination we landed and everything looked VERY familiar. I soon recognized that I was sitting at the Halsted Street bar at Chicago's Midway Airport. I know this place well, as my owner, Dr. Fabry, has taken me here many times. It's his hangout on the A Concourse when he's waiting for his flight back to Minnesota.

I guess my little kidnapping experience is over and I'm going home. As I mentioned earlier, Dr. Fabry works for Phonak Hearing Systems who has US Headquarters just west of Chicago in Naperville, IL. In a way, I'll be glad to be reunited with all my friends (I especially miss #17 and #23), but on the other hand, I'm sort of sad that all this traveling is over. I've started to really like my "kidnappers", and frankly, they treat me much more like a "real person" than Dr. Fabry ever did. Oh well, back to simply being an ordinary keypad used for voting on totally meaningless audiologic topics.

- fk45
---
January 29, 2007
Chi-Ca-Go GO!
Hooray, Hooray! I just learned that I'm not going home, but I get to keep traveling with my "kidnappers"! They are going out to see all the boring Chicago tourist things, so tonight I'm going to sneak out and see a couple sights that Dr. Fabry never took me to.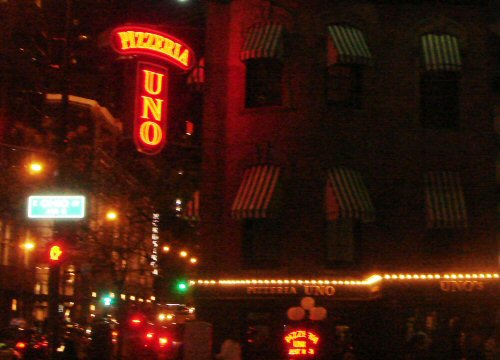 My first stop is the original home of "Chicago Pizza." As you all maybe know, the Chicago style pizza was first created in 1943 by Ike Sewell at his bar and grill called Pizzeria Uno. It's located downtown at Ohio and Wabash (across the street from the Medinah Temple for you audiology Shriner's out there).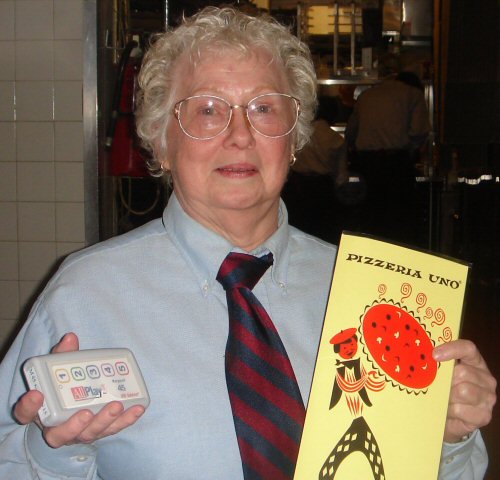 I don't think Ike is around anymore, but I did find Margaret. Margaret has been working as a waitress at this same Uno's for 42 years. She was shy at first, but after a little persuasion she agreed to have her photo taken with me. What a treat!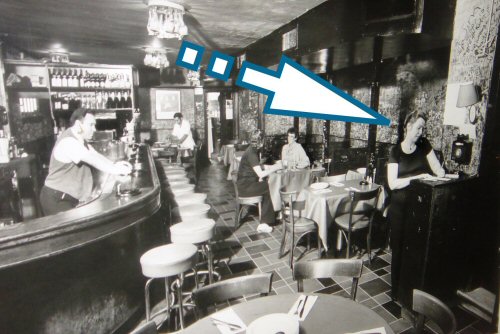 After Margaret warmed up a bit, she took me over to a wall to show me a photo of her, taken back when she started work at Uno's in the early 1960s! Pretty cool!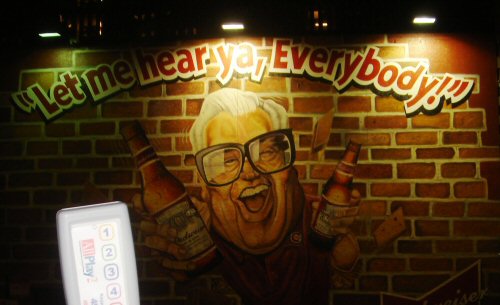 I said good-bye to Margaret and headed straight to Harry Caray's bar (I'm a Cub's fan). It's a great spot to mingle, have some homemade chips, and sip a Matilda Ale, my favorite from Chicago's local brewery, Goose Island.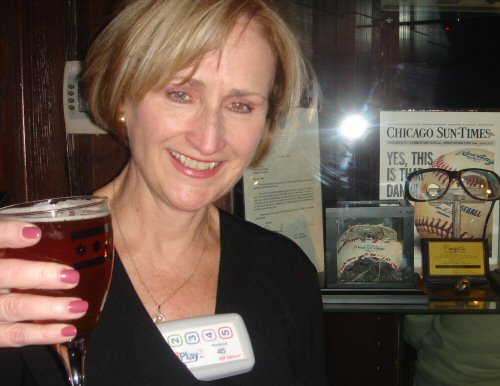 You won't believe who I saw hanging out at the bar - Patti McCarthy. She's a Sox fan, so I was quite surprised. I forgot to tell you that the main reason I wanted to go to Harry's bar was to see the exploded baseball. You know, the foul ball from the 2003 playoffs that many believe cost the Cubs a trip to the World Series.
Patti and I had our photo taken in front of the exploded ball. She put me in a cuddly place, and I sort of forgot all about beer and baseball. In fact, I forgot all about going out to Kingston Mines to hear some blues, and went home with her instead.

On the way to her place, she stopped and lifted me up to see where she worked, a place called "Rush." We then had a "quiet evening" together. Dr. Fabry never showed me THIS Chicago!

- fk45
---
March 11, 2007
Memphis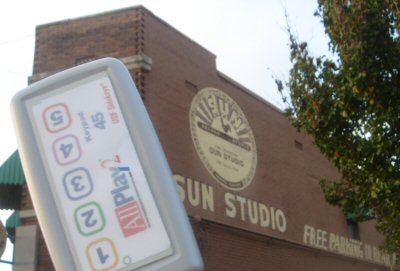 I woke up with a great idea! I'm going to record a song. After all, I'm in Memphis, home of the famous Sun Studios, where Elvis, Johnny Cash, Roy Orbison, and many other greats got their start. If William Hung can have a hit record, why not me? The studio didn't look like much from the outside, but that didn't slow me down.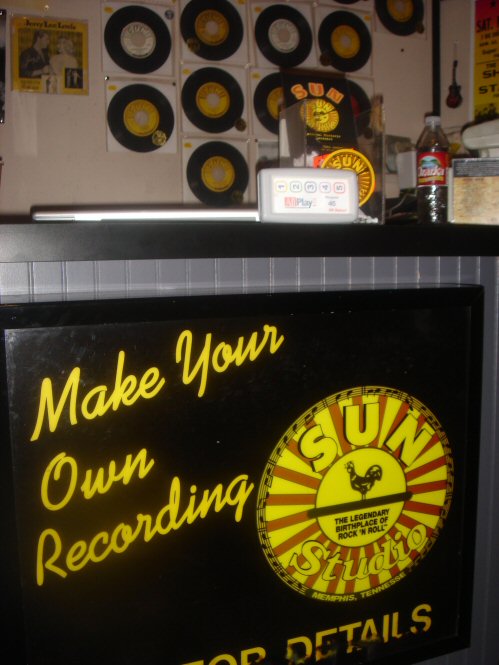 I found the actual recording studio part of the building, and started to line up my song. I decided to record the oldie: "Beachwood 4-5789" just because it seemed cool for "#45" to sing about "45."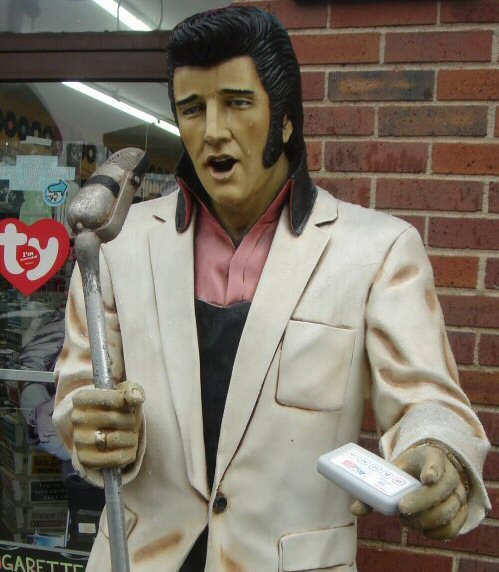 The recording turned out great, but you'd never guess what happened next. As I was leaving the building, I ran into none other Elvis. The two of us did a little duet of "Heartbreak Hotel."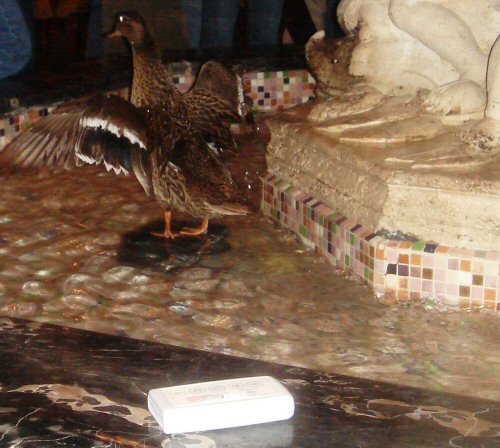 Speaking of hotels, my next stop was the historic Memphis "Peabody Hotel" to see the "March of the Ducks" at 5:00. In case you're not familiar with the routine, each day they march from the fountain in the center of the hotel lobby, on a red carpet, to the elevator where they are then taken to the Duck Palace on the roof. It's been happening every day since 1940.
Fortunately, the fountain is close to the bar, so after a couple of soaked olives, I got up my nerve to go meet Thelma, the best looking of the female ducks, just before the March. As you can see from the photo, I think I scared her-guess she had never run into a talking keypad before!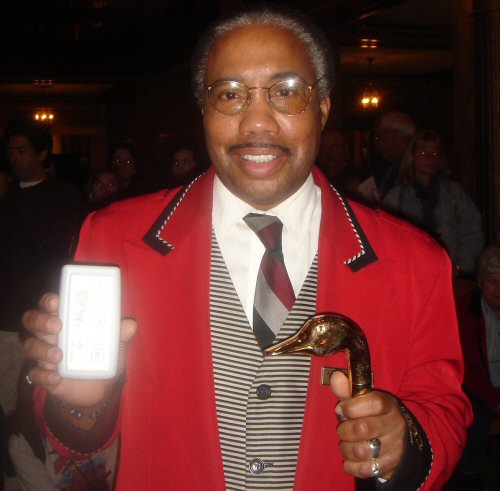 After the official "Duck March," I got to meet Dan, the Hotel's Duckmaster. He has a pretty cool job-seems like a lot more fun than what all these audiologists do that I've been meeting.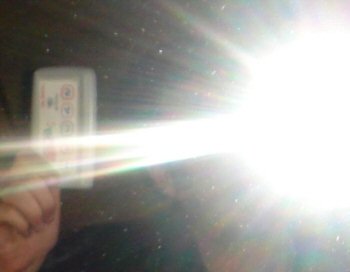 Well-it's time to leave Memphis. A fun city.
By the way-some of you who have been reading this blog have emailed me and asked to see a picture of my kidnappers. One of them is very shy, but I did get the other to take a photo of me and him (at least I think it's a "he") together.

-fk45
---
May 31, 2007
Atlanta - Celebrities and Coke

Ah! Well, we moved on from Memphis and took our time heading down the highway. I have learned a lot on this trip so far, even the secret about highway rest stops, you know … how they are BYOTP - Bring Your Own Toilet Paper. My "kidnappers" wanted to take some pictures with me and some of the more interesting grafitti scrawled on the bathroom walls, but we wanted to keep the PG13 rating on this blog.

Anyway, just like the devil we went down to Georgia and rolled into Atlanta otherwise known as Hotlanta, the A-T-L, the Big Peach, the home of the Dirty Birds. We navigated our way through spaghetti junction and then my "kidnappers" started talking about "coke".

I will be honest, I was a bit nervous. I have been known to drink a beer on occasion, but I have never done any serious drugs.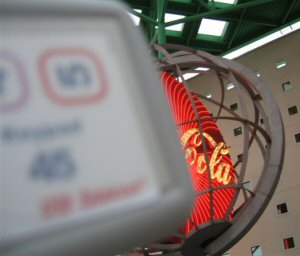 Boy was I relieved when we pulled into the Coca Cola headquarters!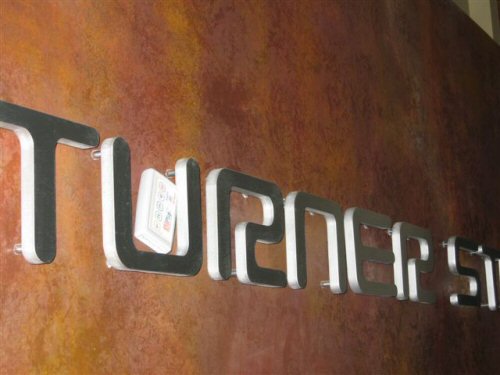 Evidently, we were only stopping for a drink as one of my "kidnappers" was a sports junkie and wanted to visit the Turner Network Television HQ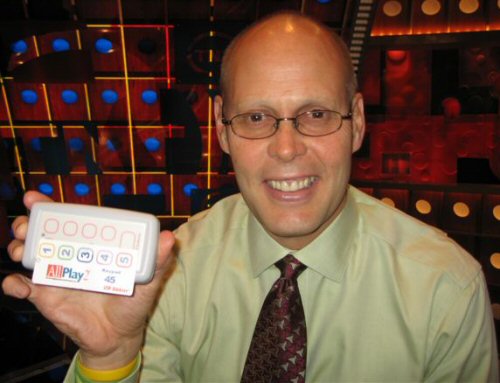 While we were there, I got to meet a real live famous person! On-air personality, Ernie Johnson Jr.! EJ (as they call him) covers the NBA for TNT and is known for his "Neat-o-Stat of the Night". He is a pretty interesting guy, and has won a Sports Emmy for his broadcast excellence. You will notice in my picture that Ernie is bald. That is because this awesome guy is fighting cancer and actually returned to broadcasting while still going through chemo! One tough dude, living strong.

Well, Ernie had a show to do and we needed to get something to eat. The place to do this was The Varsity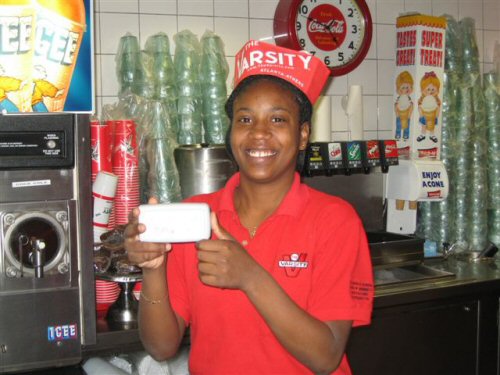 Hailed as the busiest drive through in the country and where the comedian Nipsy Russell got his start. One of the things The Varsity is know for is the carhops, and one was nice enough to have a picture taken with me. I had some onion rings and a chocolate shake, yum!

What a day! I think I want to find one of those yellow bracelet things.
-fk45
---
July 4, 2007
Myrtle Beach, SC - Happy 4th!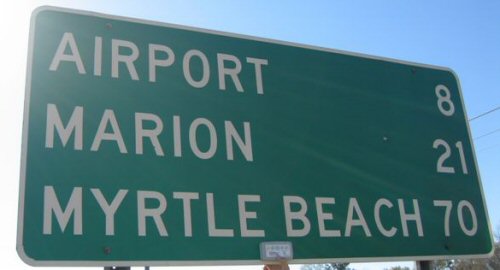 Well, we had been going pretty strong and my "kidnappers" wanted to take a rest. It was July 4th this past weekend and so we all headed to Myrtle Beach SC.

I had heard that the Freaky Tiki was the place to hang out, but we ended up taking it easy at a beach house.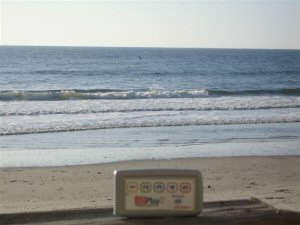 I spent most of my time on the porch instead of on the beach itself, you know, salt water and sand are not good for little electronic devices. My "kidnappers" wanted to put sunscreen on me, but I had to explain that since I do not have any skin, I cannot get sunburned. I was asking for some cool sunglasses, but I could not find any to fit me. This was a really relaxing stop.
Well, we are heading out again tomorrow. I think we are either heading east or north. Stay tuned!

-fk45
---
August 17, 2007
St. Louis, MO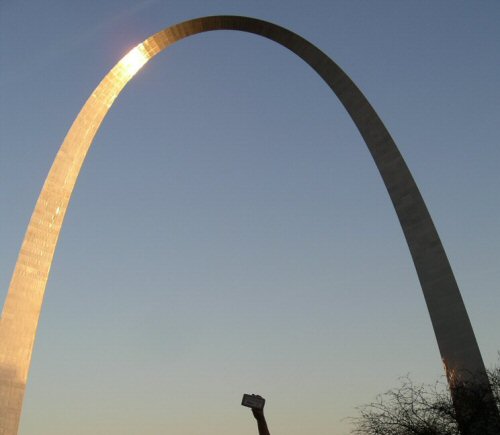 I turn to my kidnappers and say - "Hey! What's the deal with the giant paperclip stuck in the ground?" They of course mention that it is actually the McDonald's world headquarters. But that can't be right as it is not the right color and they would have to change the franchise name to NcDonalds!
Of course I am kidding as we are talking about the famous St. Louis Arch! Built in 1965 - it is more formerly known as the Jefferson National Expansion Memorial.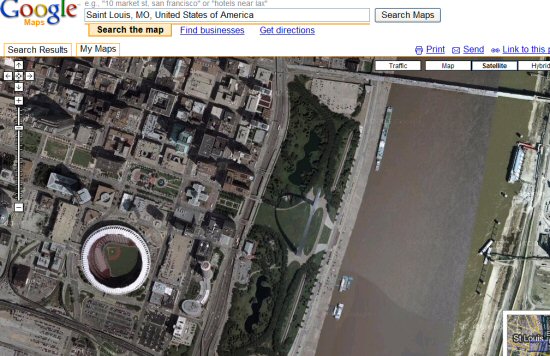 For those of you who do not want to take a road trip, it is so big you can actually see it using Google maps.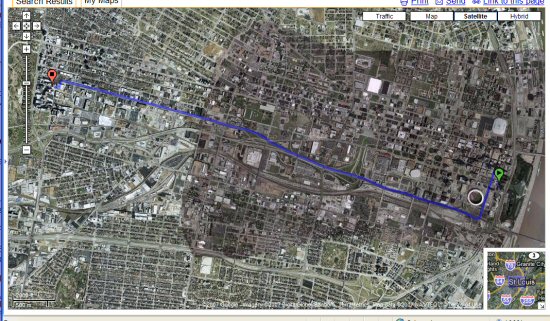 One of my kidnappers told me that Dr. Michael Valente, Audiologist and director of the Division of Adult Audiology at the Washington University School of Medicine in St. Louis can see the Arch from his office! I actually looked this up on Google maps and Dr. Valente's office is the red pin and the arch is the green pin. Yep, it is a pretty straight shot!

I am sure that some of you at this point are wondering about the math behind the arch. MEE TOO! Enjoy!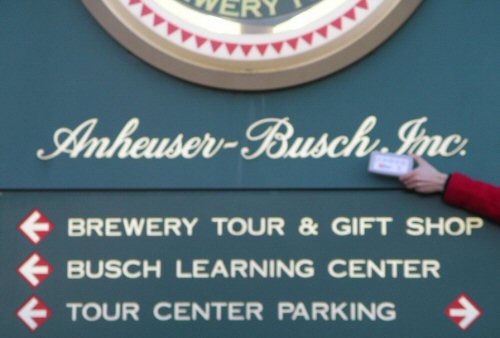 There is a tram that will take you to the top of the arch. But we had other priorities - Beer and Baseball! Yes, while St. Louis is not the world headquarters of NcDonalds - it is the worlds headquarters of Anheuser-Busch - aka the home of Budwieser! We stopped by the tasting room, and had a drink. None of the swirl in the mouth and spit it out like at a winery, we swallowed.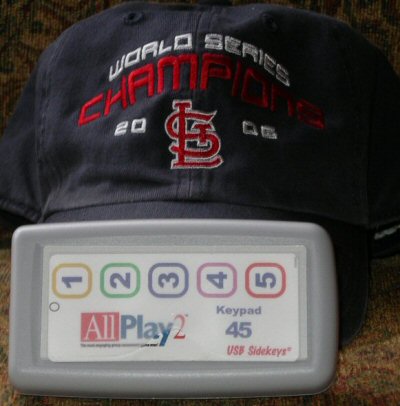 The St Louis Cardinals were the 2006 baseball world champions and so we had to get some world series gear. I bought a cap. I know some of you might say - "You should have gotten a t-shirt or something else to wear!" Well, they did not have any of those items that were in my size. The idea is that I would not be wearing the cap, but that I would actually fit well inside of the cap!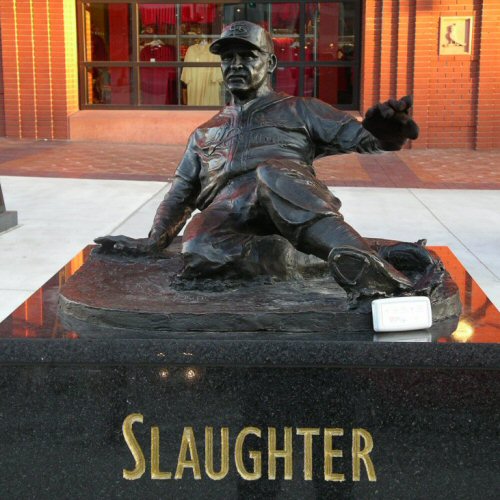 Continuing the beer and baseball idea, we headed down to the Busch Stadium. Out in front of the stadium are statues dedicated to Cardinal greats. I was able to pretend I was home base for Enos "Country" Slaughter. The statue depicts Slaughter's Mad Dash" during Game 7 of the 1946 World Series against the Boston Red Sox. He scored the tiebreaking run from first base on Harry Walker's hit in the eighth inning.

What fun, what a nice stop!
-fk45
---
September 10, 2007
San Francisco, CA
Well - I would have liked to have spent more time in San Francisco. Such a cool town. Would have been nice to take a trip through the wine country, or even gone out to Berkley and try and get William Hung's autograph.
But - we did not have much time in San Franciso, plus my kidnappers mentioned that they were trying to avoid Dr. Robert Sweetow. Dr. Sweetow is the director of Audiology at UCSF Medical Center and UCSF Children's Hospital. It is hard to put a finger on why they were avoiding him, but I have found that this is not uncommon. I know that Dr. Fabry would be nice to him in person, but whenever Dr. Fabry and Dr. Sweetow would co-present using us keypads, Dr. Fabry would use a special sanitizing process on any keypads that Dr. Sweetow would touch. Dr. Fabry would mention something about Dr. Sweetow and hygene issues.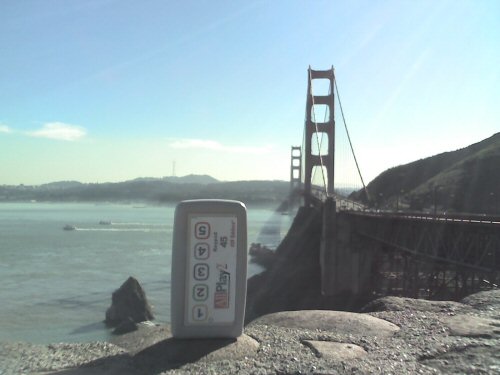 Anyway, we did get to see two famous Bay Area landmarks - The Golden Gate Bridge.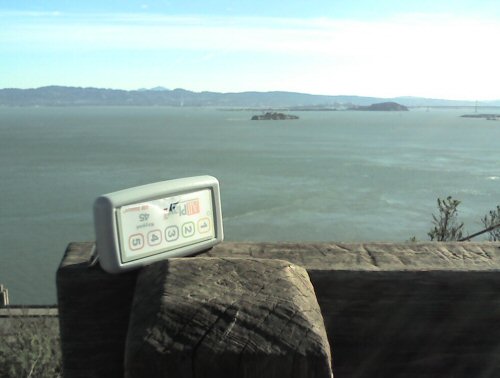 And Alcatraz! Well, Alcatraz from a distance - if you squint you can see the island to the right in the picture.

It would have been cool to have my picture taken in one of the cells - but you know - a keypad can't be too picky. You know, maybe my kidnappers are getting a little bit cheap. Dr. Fabry used to talk about how cheap Dr. Sweetow was and how he is evidently well known for always "forgetting his wallet" at group dinners. Maybe this has rubbed off on my kidnappers? We shall see!

Exciting news! My kidnappers tell me we are heading back east for a reunion! I am wondering what places we are going to visit for a second time! Should be interesting!
-fk45
---
October 1, 2007
Omaha, NE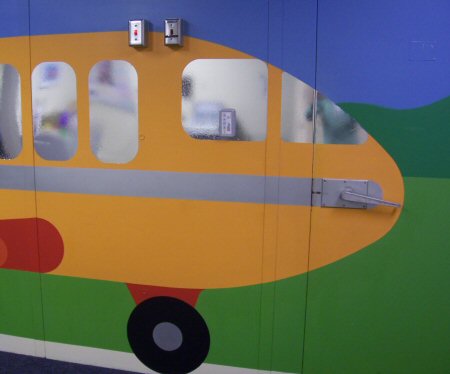 Now I will admit. I said to myself, why the heck are they taking me on a trip in Omaha, Nebraska. What is there to do in Omaha? I know there is some really good pediatric audiology here at the Boy's Town National Research Hospital. I actually got to visit the clinic at BTNRH. They have really cool testing suites that are decorated for kids. Look - I am on an airplane!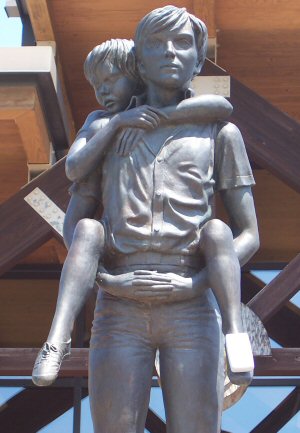 As you may or may not know, Boy's Town was founded by Father Flanagan back in 1917 as a way toget boys off the street and away from crime. The symbol of Boy's Town in later years was the image of boys helping each other - "He aint heavy, Father ... he's m' brother". With me in the picture they probably would have said - "Hey, something is on my foot - GET IT OFF, GET IT OFF!"

Well, beyond that, there is actually lots to do in Omaha! You may not be aware that The Henry Doorly Zoo located in Omaha, Nebraska is considered by many to be one of the top zoos in the United States. In May 2004, it was voted by Reader's Digest as the best zoo in America. Readers of Disney-owned Family Fun Magazine recently named this the "#1 Family Friendly Vacation Spot in the U.S."
This includes three feature exhibits - The Desert Dome. The world's largest indoor desert. I am not sure if this comes with the world's largest indor mirages - but you get the idea.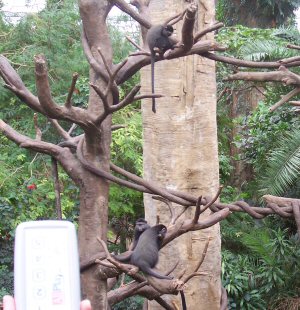 The second is Lied Jungle. The world's largest indoor rainforest. This is not to be confused with the Rainforest Cafe. I kept asking the tour guide where I could get some Rio's Chicken Crunch - to no avail.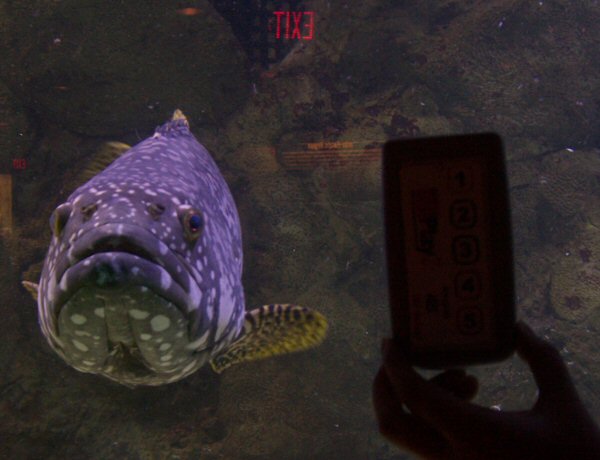 The third is the Aquarium - it was really quite ....... holy crap! AAAAAAAAHHHH! The fish is going to eat me! RUN RUN!

One last stop in Omaha before moving on. Rosenblatt Stadium, home to the the Men's Baseball College World Series since 1950. Right now there is a huge debate in Omaha about whether the stadium should be enhanced. This is primarily for College World Series requirements…..there is a AAA farm team for the KC Royals that plays here but that doesn't draw nearly as many attendees! The other option is to bild new stadium should be built closer to the downtown area where lots of revitalization has been going on. I like tradition - SAVE ROSENBLATT!

Well, my "kidnappers" and I have been talking and we think we have the perfect location for the next stop. As I mentioned before, we have all become really good friends and had a good time (they always bought my beer), but we think that based on the time of year, that a reunion is in store. Stay tuned!
-fk45
---
October 11, 2007
Orlando, Florida - ADA Convention 2007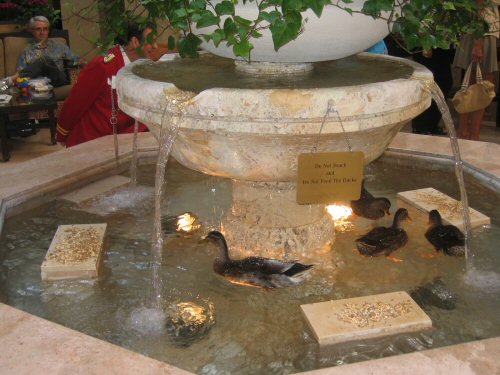 Well, much like a car that can only turn right (or left), this has all come full circle. Actually, in a number of ways! Remember when I visited the Peabody hotel back in Memphis? Well, here I am again at the Peabody hotel, but now I am in the one in Orlando, Florida!
Yes - the ducks, the ducks, the ducks!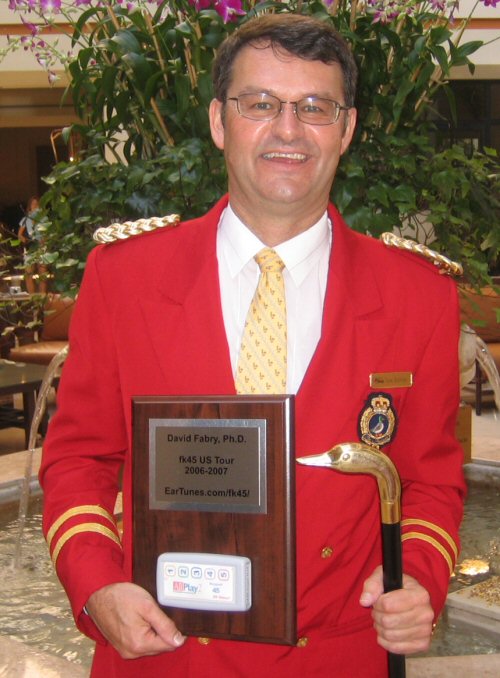 Of course I had to have my picture with the Duckmaster as well. He was a really nice guy. Said he liked to take care of the ducks and also collect thimbles. Everybody has a thing, I guess.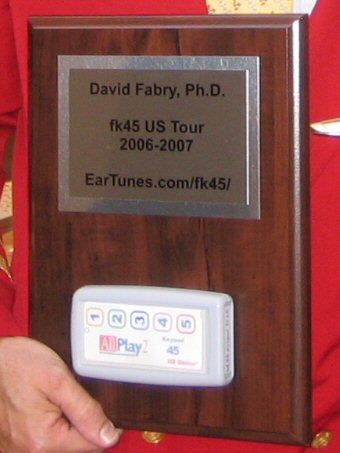 You may have noticed from that picture that I have been, "mounted". Now, just to be clear, I was willingly mounted, kind of like, well, anyway, it was my idea. We have come not only full circle with the ducks but with this adventure. You can see by the inscription on the plaque that I am coming back to the ADA meeting to be reunited with my owner, Dr. David Fabry!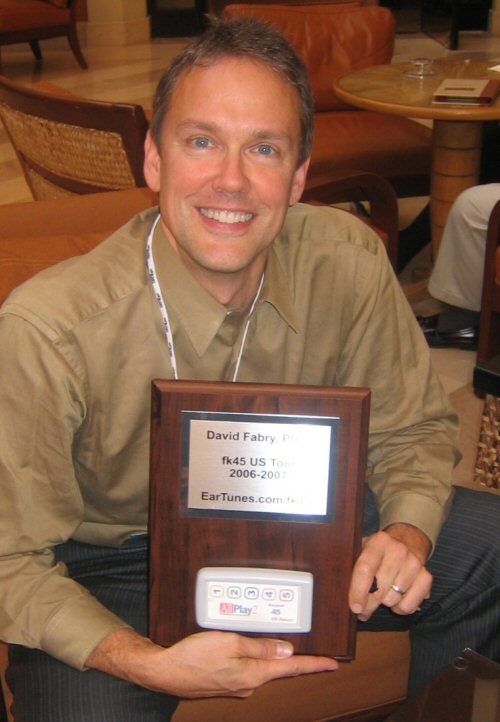 Yes, it was about 1 year ago today that I was plucked from my 50 brothers and sisters and taken on this whirlwind adventure. Here I am, reunited with Dr. Fabry, just a few feet from a fountain filled with ducks, seeds and duck feces. The fountain was in the middle of the bar area, so we sat there and had a few drinks and munched on some trail mix. Did you know that Dr. Fabry takes his drinks with a twist of lemon? Kind of "girly" but what the heck - it is good to be back. We talked about all of the adventures that we had both encountered over the past year.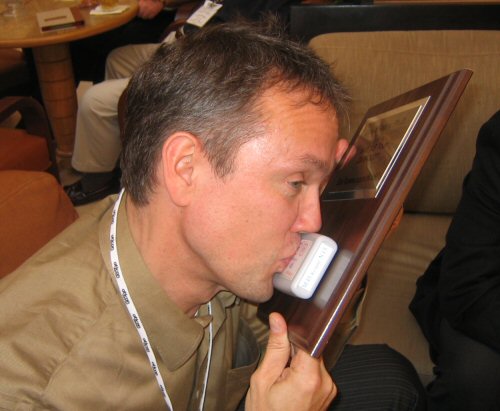 At one point, Dr. Fabry got kind of emotional about the whole thing. This must be part of the whole "lemon twist" mentality. He actually kissed me! Well, I guess if we were in Europe it would not be that big of a deal. It was actually kind of sweet. I probably would have given him a hug or something - but without any arms, the best I could hope was that I had built up enough static electricity and possibly shocked him a bit in response.

Well, this is the end of my web story as well. Thanks for reading and I hope you liked the adventure. If you have any comments, send them to the EarGuys via this website, they have been really nice to host this page and let me tell my story.

Parting thoughts you say? Something profound and meaningful? Hmmmmm ... how about something Zen?
(ahem)
Always remember that you're unique. Just like everyone else.
-fk45
---
November 20, 2007
Epilogue
Well, it took a while to add this part. Mostly because we had a bunch of stupid arguments about how to spell "Epilogue". I wanted to use the alternative spelling of "Epilog". I just like it when things are shorter and simpler. Plus, you get to spell it like it sounds! I hate it when the english language uses a bunch of extra letters and stuff. The other thing that drives me crazy is when people will pronounce the same word two different ways. You don't want to sound like an idiot, so you say the word the way the other person does, and all the time in the back of your mind you are thinking, "Do I sound more educated, or do I sound like an idiot."
It gets even worse. You then have words like crevasse and crevice. The first is a deep fissure, as in a glacier. The second is a narrow crack or fissure. So then you have confusion on two words that are spelled differently, and are pronouced differently, but pretty much mean the same thing. How deep does the fissure need to be to be called a crevasse versus a crevice. But you know, once one person refers to the crack in the wood floor as a crevasse, so does everyone else. I mean, hell, phonetic isn't spelled the way it sounds!
Anyway, sorry about that. Just had one more thing to post about. Dr. Fabry has changed jobs and is now in Miami! Man, are we loving it! Great weather, really nice. This all kind of worked out as all of the other keypads had to stay back at Phonak and so, in a funny way, me being kidnapped was really the best way to stay friends with Dr. Fabry. I now hang on the wall in his office, we talk from time to time and I get to meet some of his patients. I really enjoy it and it is actually pretty interesting hanging out here. All is well that ends well!
-fk45
---
Acknowledgements
fk45 would like to thank his "kidnappers" - as they asked to remain secret I will name them using a SUPER SECRET code. Sug Relleum, for constant support and the early days. Aneleh Radolos for the french fries and sand. Leahcim Etenelav for the mind bending experience. Tnerb Sdrawde for the long stay. Anwad Siwel, for putting a new perspective on the great outdoors. Finally, thanks to Luap Alabyd, for finding me in the midst of all the chaos that was my life and guiding this whole process. There were many others, all most too many to name, but I appreciate all of your help and hospitality as I traveled over the past year. It was fun!
---
Disclaimer
Most of the information above was created and edited while the authors had consumed one or several of adult beverages. Even when the authors were not under the influence, they widely ackowledge that they are infrequently and probably should never be taken seriously. No claims are made for points of accuracy, spelling, grammar or even humor. Read at your own risk or peril or at whatever other apocalyptic scenario suits you.