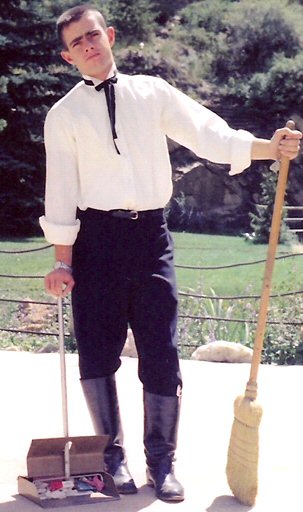 Whistles own calibration tones
Colorado, USA


Featured Musical Sample:
Listen to Whistling - Don't Worry, Be Happy! - mp3 - opens new window

Musical Bio:
Little Jerry's interest in music began in a Denver kindergarten class when he auditioned for a part in the Christmas program. He competed fervently for a part playing the bells, then later auditioned for the triangle, but finally was relegated to an instrument better suited to his musical abilities—the cymbal—that ever-popular instrument in Christmas songs! While this early experience did assist him in developing an infant screening test with Marion Downs in later years, it did not satisfy his quest to be a musician.

As the years went by, young Jerry became even more determined to develop musical skills that actually involved a melody. While playing with an old Zenith body hearing aid in his sandbox one day, he heard a distinct sound—a "whistle." That was it. He decided that from that day forward he would become "The Happy Whistler." He started whistling around the house continually, often conducting private concerts for his grandparents, who were raising him. They continually praised him for his superb musical abilities. His grandparents were both deaf.

As a senior in high school he decided to branch out and show the world his talents. He became a "singing" (sometimes whistling) usher at the Central City Opera. As shown in the photo, the job was not quite the breakthrough in the entertainment field he had in mind. In fact, he put away his whistle for his entire undergraduate career.

A few more years went by and when Jerry entered graduate school to study audiology, he spent many hours in the audiometric test booth fine tuning his whistling skills. He became so good at imitating pure tones at various output levels, that he was able to calibrate the audiometers in the university clinic "by mouth". His calibration skills became widely known and brought him much acclaim in the field. An early poster presented at ASHA by Jerry while he was a Ph.D student was entitled, "An Audiometer Calibration Technique That Really Blows". Jerry eventually gave up calibrating audiometers "by mouth", due to the dreaded "125 Hz tone" which tended to numb his lips. Additionally, he was eventually introduced to the sound level meter.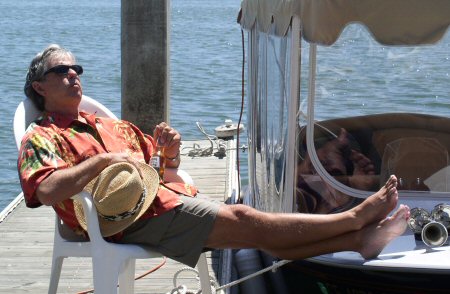 Today, Jerry is usually whistling during his various expeditions to Mt Everest, Mt Rainier, and Mt Whitney and while climbing most of Colorado's 14,000 peaks. He typically whistles along the trails to entertain himself....and scare away the bears. He is also known in some circles as the "Happy Whistler by the dock of the bay".

Audiology Bio:
Jerry Northern currently provides consultant services to the Marion Downs Hearing Center at the University of Colorado Medical Center. Dr. Northern retired in 1996 after 26 years of service as Professor of Otolaryngology and Director of Audiology Services at the University of Colorado Medical Center. He remains a Professor Emeritus at the University of Colorado School of Medicine. Dr. Northern is currently the American Academy of Audiology's Editor of Audiology Today and the Academy's web site at www.audiology.org
inFamous ID: 109 // Date Created: 2006-08-01 // Last Updated: 2006-08-18